Holonic Source for Reaktor Blocks
Holon.ist integrates with Reaktor using the Holonic Source Block.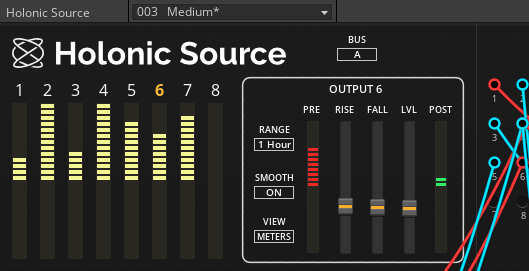 Installation
Send an email to info@holonic.systems to request a serial number for Holonic Source. You will need it later during the process.
Download Reaktor or the free Reaktor Player and Blocks Base from Native Instruments.
Download Holonic Source.zip and unzip it anywhere.
Move the "Holonic Source" folder into /Users/Shared on MacOS, or c:\Users\Public\Public Documents on Windows.
If it's not already installed, download and install Native Access here.
Once installed, open the Native Access application.
Click on 'Add a serial' and paste the 25 character serial number you received by email.
Click the 'VIEW PRODUCTS NOT INSTALLED' button.
Click on 'ADD LIBRARY' next to the pack icon.
Click on 'BROWSE', locate the Holonic Source folder you moved, select it and click 'OPEN'.
Click 'INSTALL'.
Make sure OSC is enabled in Reaktor (Menu-> "File" -> "OSC" -> "OSC Activate")
Demo Patches
To try Holonic Source, download the free Holon app that contains the default Holon.ist mappings. It automatically detects Reaktor on a shared WiFi network. Download Holon for iOS.